Industry Expertise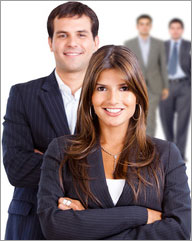 For over 20 years, Chase Consultants has recruited sales and marketing professionals in the information technology sector. Our expertise in the IT industry is extensive.
Chase provides candidates who possess the appropriate education, intellectual horsepower, experience, business acumen, career goals and personality to make a positive contribution to the changing demands of business. Whether it is a Business Development Sales Executive in the Financial Sector, a Sales Specialist in Unified Communication, a Vice President of Sales for an industry leading software company, a Senior Executive for a Major Consumer Electronics Manufacturer or a Director of Marketing for a major Wireless Manufacturer, Chase has consistently and effectively delivered "best in class" candidates over the last two decades.
With a demonstrated track record in increasing employee retention and reducing the risk of bad hires, Chase Consultants is the search company of choice for many of Canada's top Information Technology companies.
Chase has extensive "hands on" experience in the industries and functions we serve.
Our specialty areas include:
Application Software
Managed and Professional Services
Consumer Products
Communications
Computer Networking & Hardware
Display Products
Industrial Products
Security Products
Application Software
Bid Data, Analytics, Customer Relationship Management, Cloud, Supply Chain Management, Enterprise Resource Planning, Business Intelligence, Backup and Recovery, Product Lifecycle Management, Data Warehousing, Network Security, Financial Market Data, CAD/CAM, Point of Sales, Content Management, Risk and Compliance
Managed and Professional Services
MITS Cloud,  Application Outsourcing, IT Outsourcing and hosting, Business Process Outsourcing, Site and Facilities Services, Human Capital Management, Management Consulting, Storage and Data services, Integrated Communication Services, Managed Print Services
Consumer Products
Consumer Electronics, Digital Appliance , Personal and Healthcare, Plasma, LCD, Digital Cameras, Home Theatre, Business products, Digital and Analog Phones, Financial Services, Transportation & Logistics, B2C, B2B, H2H
Communications
Mobile Commerce, Digital Identity, Mobile Wallet, Data and Networked Solutions, M2M, Contact Centre Solutions, Voice Services, Hosted PBX, IP Phones, VOIP, Unified Communication Solutions, Wireless Applications and Solutions, Hosted and Managed Services, Video Conferencing Products and Solutions, routers, switches.
Computer Networking & Hardware
Virtualization, Infrastructure, Data Storage Networking, Achieving and Protection,  Servers, Digital Copiers, Wide Format and Multifunctional Printers, Notebooks, Duplicators and Production Systems, Printers, Monitors, Cabling, Mobile Computers, Point of Sales Systems, Facsimile, Networked Color Systems.
Display Products
CCTV and Analog Cameras, LCD and Plasma Televisions, LCD Projectors, Digital Signage Solutions, Computers, Monitors, Notebooks, Production and Industrial and Professional Cameras,
Industrial Products
Energy Solutions, Renewable Energy, HVAC/ Building Automation, OEM Electronic Components, Industrial Batteries, Factory Automation, Test & Measurement, Industrial Power Tools, Industrial Fork Lifts
Security Products
Electronic Access Control, CCTV and Video Solutions, Surveillance, Alarm, Fire and Sprinkler.
Functions
President
Vice President Sales
Vice President Marketing
Director of Sales
Director of Marketing
Channel Manager
Alliance Manager
Business Development Manager
Branch Manager
Sales Manager
Program Marketing Manager
Product Manager
Online Marketing Manager
Segment Marketing Manager
Communication Manager
Loyalty Marketing Manager
Sales Executive
Sales Specialist
Sales Engineer
Practice Manager
Client Executive
Senior Consultant
Account Executive
Regional Sales Manager
Senior Marketing Manager
Advertising Manager
National Sales Manager
Marketing Analyst
Global Alliance Manager
Group Marketing Manager
A sampling of Chase placements •
Vice President of Sales, Application Software • Client Executive, Banking, IT Outsourcing and Professional Services • Vice President of Sales, IT Outsourcing and Professional Services • Regional Sales Manager, Eastern Canada, Data Backup and Recovery Software • National Sales Manager, Wireless Manufacturer • Account Executive, Mid Market, Application Software • Major Account Manager, BC Public Sector, Computer Hardware and Networking Manufacturer, Online Marketing Manager, Consumer Electronics Manufacturer • Account Executive, Enterprise, Application Software • Vice President of Sales, Consumer Electronics Manufacturer,
Account Executive, Financial Services, Application Software, Winnipeg • Director of Sales Financial Services, Telecom • Major Account Manager, Integrated Energy Solutions, Montreal • Sales Engineer, Data Backup and Recovery Software, Calgary • Director of Marketing, Wireless Manufacturer • Account Executive, Publishing, Managed Services • Vice President of Sales, Enterprise Storage Solutions Manufacturer • Group Product Manager, Computer Networking and Hardware Distribution Company • Sales Specialist, Enterprise, Unified Communications, Telecom • Regional Sales Manager, Carriers, Montreal, Wireless Manufacturer • Client Sales Executive, Site and Facilities Outsourcing, Winnipeg • President, Document Imaging Solutions • General Manager, IT Outsourcing and Professional Services Company, Montreal • Senior Marketing Manager , Consumer Electronics Manufacturer • National Call Centre Specialists, Telecom • Vice President of Sales, Document Imaging Solutions • National Channel Manager, Data Backup and Recovery Software • Director of Sales,POS Systems Manufacturer • Client Executive, Federal Government , IT Outsourcing and Professional Services • Production Sales Specialist, Document Imaging Solutions, Edmonton • Director of Sales, Application Software, Montreal • Regional Sales Manager, Federal Government, Data Backup and Recovery Software, Ottawa • Account Executive, Financial Services, Telecom • Account Executive, Ontario Public Sector, Telecom • Regional Sales Manager, Data Backup and Recovery Software, Calgary • Account Executive, Financial Market Data • National Account Manager, POS Systems Manufacturer • Vice President Sales, Digital Signage, Consumer Electronics Manufacturer • Client Sales Executive, Alberta Public Sector , IT Outsourcing and Professional Services • Services Account Executive, Western Canada, IT Outsourcing and Professional Services • Director of Sales, Electronic Payment Solutions • Client Delivery Manager, IT Outsourcing and Professional Services, Windsor • Sales Engineer – Central Canada, Data Backup and Recovery Software • Director of Sales, HVAC Manufacturer • National Account Manager, Mass Retail, Minneapolis, Consumer Electronics Manufacturer • Director of Sales, Mid Market, Telecom • Practice Principal , IT Outsourcing and Professional Services • Regional Alliance Specialists, IT Outsourcing and professional Services • Regional Sales Manager, Data Backup and Recovery Software • Major Account Manager, Integrated Energy Products • Director of Sales, Integrated Energy Solutions, Ottawa • Sales Specialist, Mid Market, Unified Communications • National Account Manager, Mass Retail, Consumer Electronics Manufacturer, Vancouver • Director of Business Development , Financial Services, IT Outsourcing and Professional Services • Sales Director , Insurance Vertical, IT Outsourcing and Professional Services • Channel Sales Manager, IT Hardware and Networking Manufacturer , Montreal • Regional Sales Manager, Integrated Security Solutions, Montreal • Sales Engineer, Data Backup and Recovery Software, Montreal • Sales Manager, Document Imaging Solutions Manufacturer, London • Client Executive, Ontario Public Sector, IT Outsourcing and Professional Services • Sales Manager – Document Imaging Solutions Manufacturer, Edmonton • Business Development Manager, Digital Appliances, Consumer Products Manufacturer • Client Delivery Manager, IT Outsourcing and Professional Services, London • Account Executive, IT Hardware and Networking Products, Halifax • Client Sales Executive, Call Centre Solutions, IT Outsourcing and Professional Services • Production Sales Specialists, Montreal, Document Imaging Solutions Manufacturer • Regional Sales Manager, Industrial Power Tools • Account Executive, IT Hardware and Networking Products, Winnipeg • Regional Sales Manager, Retail, Montreal, Wireless Manufacturer • Client Sales Executive , Manufacturing Vertical, IT Outsourcing and Professional Services • Director of Sales, Digital Displays, Consumer Electronics Manufacturer • District Sales Manager, Enterprise Storage Solutions, Montreal •
Sales Director, Financial Services, Logistic and Transportation Services • Director of Sales, Distribution, Computer Networking and Hardware • Client Delivery Manager , IT Outsourcing and Professional Services, Vancouver • Sales Manager, Environmental Software • Director of Service and Quality , Consumer Electronics Manufacturer • Director of Digital Displays, Huntington, California, Consumer Electronics Manufacturer • Marketing Manager, Audio Video, Consumer Electronics Manufacturer • President, Consumer Electronics Manufacturer • National Account Manager, Digital Appliances, Consumer Electronics Manufacturer • National Sales Manager, Industrial Batteries • Business Development Manager, IT Hardware and Networking Products, Calgary • Vice President Marketing, Wireless Manufacturer • Global Account Manager , Industrial Components • Senior Marketing Manager, Professional Imaging, Consumer Electronics Manufacturer • National Account Manager, Presentation Products, Consumer Electronics Manufacturer • Key Account Manager, Consumer Batteries • Director of Consumer Marketing, IT Hardware and Networking Manufacturer • Segment Marketing Manager, Public Sector , IT Hardware and Networking Manufacturer • Segment Marketing Manager, Enterprise, IT Hardware and Networking Manufacturer • Product Marketing Manager, IP PBX Phones • Account Executive, Integrated Security Solutions • Director of Sales, CCTV & Video • Regional Sales Manager, Integrated Security Solutions, Vancouver • Enterprise Account Executive, Data Warehousing • Account Executive, Integrated Security Solutions, Montreal • Manager, Business Development, Credit Card Services • Sales Director, Transactional Mail and Logistic Services • Senior Account Executive, Financial Services, Transactional Mail and Logistics Services • Account Executive, Retail Vertical, Transactional Mail and Logistic Services • Account Executive, BI Analytics • Account Executive, Enterprise Storage Solutions, • Major Account Manager , Industrial Vehicles • Sales Professional, CAD Software, Ottawa • Supplies Sales Manager, Mass Retail • Corporate Sales Manager, IT Hardware and Networking Manufacturing • Key Account Manager, Digital Appliances, Consumer Products Manufacturer • In Store Trade Marketing Manager, Consumer Products Manufacturer • Account Manager, Customized Financial Solutions • Account Executive, Online Training Solutions • Solutions Manager, Document Imaging Solutions Manufacturer • Account Manager, Customized Financial Solutions, Vancouver • Account Executive, Transportation and Logistics • Inside Sales Manager , CAD Software • District Sales Manager, Site and Facilities Outsourcing • Account Executive, Site and Facilities Outsourcing • Director of Sales, Document Imaging Solutions Manufacturer, Montreal • Channel Sales Manager, IT Hardware and Networking Manufacturer • Branch Sales Manager, Document Imaging Solutions manufacturer, Burlington • Manager, Printing Solutions Document Imaging Solutions Manufacturer • Program and Incentives Marketing Manager, IT Hardware and Networking Manufacturer • Regional Dealer Manager, Document Imaging Solutions Manufacturer • Program Marketing Manager, Document Imaging Solutions Manufacturer • Major Account Sales Executive, Network Access Solutions, POS • Client Engagement Manager, Application Software, Montreal • Client Sales Executive, Site and Facilities Outsourcing, Calgary • Client Engagement Manager, Application Software, Financial Services Vertical • National Account Manager, Mass Retail, Display Products, Consumer Products Manufacturer • Director of Sales, Retail, Consumer Electronics Manufacturer • National Sales Manager, Digital Appliances, Consumer Electronics, Manufacturer • National Sales Manager, Retail, Consumer Products Manufacturer • Manager, Business Development, Air Purification Products • Marketing Analyst, Consumer Products Manufacturer • Product Trainer, Consumer Products Manufacturer • Director of Digital Displays, Atlanta, Consumer Electronics Manufacturer • Digital Color Specialist, Document Imaging Solutions Manufacturer • Field Marketing Supervisor, Consumer Products Manufacturer • Major Account Manager, Customized Financial Solutions, Calgary • Sales Engineer, Wireless Manufacturer.Client Sales Executive, Site and Facilities Outsourcing, Vancouver • Sales Manager, IT Hardware and Networking Manufacturer, Calgary • Services & Solutions Executive, Halifax, Document Imaging Solutions Manufacturer • Major Account Manager, Telecom, London • Director of Sales Wholesale/ Distribution. IT Hardware and Networking Products • Major Account Manager, Computer Networking and Hardware • Client Executive, Federal Government, IT Outsourcing and Professional Services • Sales Director, Manufacturing Vertical, Logistic and Transportation Services • Sales Executive, HR Business Applications, Calgary • Senior Solution Consultant, Site and Facilities Outsourcing • Director, Client Relations, Site and Facilities Outsourcing • Account Executive, Records Management Solutions • Voice Sales Specialist, Telecom • Account Executive, Public Sector, Telecom, SWO • Major Account Manager, Financial Service Vertical, Winnipeg Telecom, Account Executive, Security Software • Branch Manager, Printing Solutions, Senior Account Manager, E Learning • Workflow Marketing Manager, Document Imaging Solutions Manufacturer • Channel Sales Executive, IT Outsourcing and Professional Services • National Account Executive, Corporate Resellers, Computer Networking and Hardware Manufacturer • Agent Owner, Albuquerque, Document Imaging Solutions Manufacturer • Agent Owner, St Louis – Document Imaging Solutions Manufacturer